November 1975 - Roller Rink Black and Blues

I first went to a real roller rink with an old girlfriend, when I was about 20 years old, in 1975. The place used to be called the Empire Roller Skating Center, located in Crown Heights Brooklyn. It's been closed since 2007, which is really a shame because of its long, rich history. Some say that this place was where disco roller-skating was born. Inventive speed skating and hard driving moves such as the Brooklyn Bounce was the theme of this place in the seventies.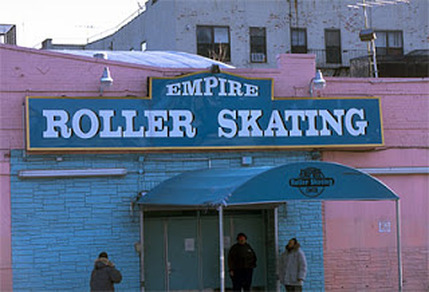 As we walked in, Donna Summer's "Love To Love You Baby" was moving everyone along the floor. The 20,000-watt sound system seemed to be driving the skaters to prove that one was better than the other. There were flickering strobe lights and the ever-invigorating rush of cool breeze as skaters rushed close to us within the barriers of the rink. Excitement was in the air as we walked over to rent our skates but the thrill of anticipation was about to turn to something else.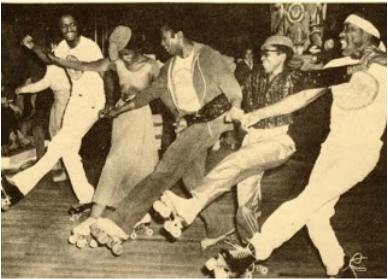 ​After lacing up and then stepping onto the rink, we could not help but feel that we were out of our league. Being novice skaters, my friend and I wondered if we were even in the right place. Watching the aggressive, fast paced maneuvers of the seemingly expert skaters was fascinating to see but intimidating to be in the middle of. It was Saturday night and what seemed like a good idea back in Manhattan, now was feeling like a mistake.
The place was so crowded that if you about to fall, you couldn't fall. I was genuinely scared, the one or two times that I fell, The thought of getting fingers run over or being knocked down again was a real fear under the circumstances. The amazing thing was that the aggressive skaters were so good at their art that they easily avoided or even jumped over me. I'm not kidding. I actually had a guy jump over me when I was down. It was thrilling to see but not a position I preferred to be in.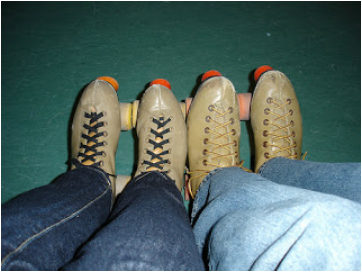 We stayed for about an hour and then called it a night. Next weekend, we returned to the famous Empire Roller Skating Center one more time (mostly because my friend wanted to and against my better judgment). My skating was not much better and overall it was just too crowded to relax and have fun. This was not the place to leisurely relive my youth and re-learn to skate. By the end of the night, I decided to hang my rental skates up for a while.