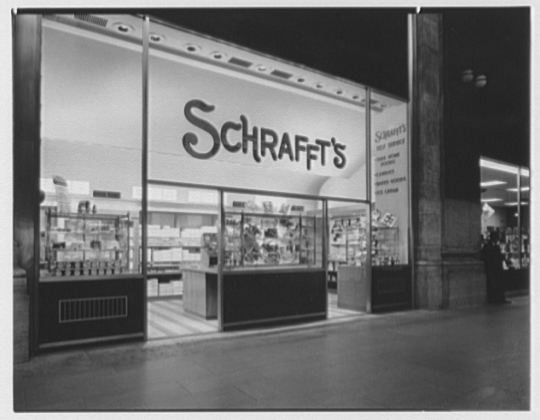 My First Job - Lloyd A. Green
The wet pavement of 27th Street, led me in an eastward direction. The walk seemed longer than it should have been. An unexpected drizzle clouded my glasses, making it difficult to see the correct building numbers. Regardless of the misty veil hanging on my nose, when I glanced to my right, I was able to find what I was looking for.

I expected to see a restaurant storefront in the shape of a high windowed palace but instead I found only a weather beaten doorway that held an old sign. In dull gold letters it said Shrafft's Temporary Kitchen Help.

I stamped a moist trail up to the second floor landing which brought me directly to an open doorway. Before entering, I passed a tall thin guy on his way out, who then moved quickly downstairs. After he went by, the first thing I could see in the office was a rather large and beat-up looking desk. Behind it sat a well-dressed Black guy with a pencil-thin moustache.

I approached and then stood dripping before him. He silently motioned that I fill out a poorly copied page that was on a clipboard. I wrote in my information while I was standing at the corner of his desk. Because of my lack of job experience, I didn't have much to write so I soon handed him back the form.

With a down-turned eyebrow, he glanced at what I had written and he then looked up at me.

"You worked anywhere before?" he asked.

"No. First time," I tried to say politely.

I'd heard that there would be no requirements for this work but it seemed like he was about to show me the door.

"It doesn't matter. Take a seat," he said as he tossed the form into a nearby metal tray.

Without looking up from his other paperwork, the guy waved the back of his hand as if he were swatting at a fly. Actually, he was motioning me towards the group of people sitting in a few close by rows of wooden chairs. Just head of me, in the second row, sat my girlfriend, Regina, and her younger sister, Theresa. They had arrived a short while before I had.

Them acting like giggling teenagers was a kind way to describe the pair. This was supposed to be a workplace so you'd think they'd at least try to sit quietly. Regina looked as if she was about to bust a gut. She tried her best to hold back the laughter that was behind her huge smile.

I found my way to the empty seat next to her. As I was sitting, I waved hello to her sister who gave me a big friendly smile. Regina then grabbed my arm and brushed her nose close to my ear.

"No. First time," she chuckled with an imitation low voice in an attempt to sound as I had just a moment ago.

She was obviously making fun of how serious I sounded when I answered the guy at the desk. She was not doing a good job at keeping her voice down. This made me place my index finger on her mouth.

"What now?" I asked her.

"You wait for your name to be called," she mumbled through my finger.

As Regina smiled at me, with one smooth motion, she kissed my finger, withdrew it from her lips and then warmly placed it on her lap. I was about to say something off-color but she quickly turned her head back to her younger sister, in order to restart their prior chatter. I took my glasses off so I could wipe them with a tissue from my pocket and I then took inventory of my surroundings.

The fluorescent lighting overhead was having a hard time fulfilling it's purpose and the light from the fixture at the other end of the room was flickering across the wall like an old time picture show. I was thankful that the wind from the big stand-up fan in the corner was hardly able to find me. As my rain soaked shirt slowly tried to dry, this windless area of the room was my salvation from freezing. I rubbed my goose pimpled arm as I thought about how I got in this office with the humorous sisters.

Because of family outings, and a lack of motivation, I had avoided what many of my friends had been doing regularly every summer. I never even dealt with working papers when I was younger. So on this fifth day of July 1971, my eighteen years had brought me to a place where I could truthfully say that I had never worked a day in my life.

Regina had heard about a place where if you get there seven in the morning, you'd get sent out on work assignments, first come, first serve. You'd be temporarily filling in for those who were out sick or on vacation at the Shrafft's restaurants. She described the work as washing dishes; lunch counterwork and general clean up. This sounded simple enough and the need to break my summertime cycle was way overdue.

The office manager, fumbled noisily through the stacks of papers on his desk and the racket was beginning to become annoying. After a bit more racket, one of those papers that he finally located must have had my name on it because suddenly he looked in my general direction.

"Mr. Green?" he called out, much louder than necessary. The area of the room was large but I doubt that any of the twenty of us was going to miss a whisper as we sat patiently waiting.

Breaking the silence came Regina.

"Hey," she protested. She obviously wanted be heard by more than just me. "We were here fifteen minutes before you. No fair."

Theresa tugged on her sister's arm.

"Don't be so loud," Theresa said. "You don't know what he's calling him for."

As I rose from the chair, I bent over and whispered to Regina.

"Guess they need the help of somebody strong and good looking."

"Then why did he call you?" she quickly responded.

Regina covered her mouth with both hands to unsuccessfully hold back her response to her own joke. It was difficult not to hear air squirting from between her fingers.

As I walked towards the desk, I also heard a complaint from a close by sole. It was obvious that I had been picked in the lottery ahead of others.

"You know how to get to Flatbush Avenue and Church Street from here?" Mr. Moustache asked.

"Yeah. You take the B Train into Brooklyn and get off at Church Street."

He nodded and continued his instructions.

"They need you to work over there for the rest of the day. You'll get paid after you're finished working. About two dollars an hour. You'll get paid in cash. Any questions?" I shook my head to indicate "No." Mr. Moustache gave me a piece of paper with an address scribbled on it and thirty cents for train fare.

I then turned quickly to wave goodbye to the women folk. They seemed about as shocked as I was at how quickly everything happened.

As I found my way back down the stairs towards the street, I felt proud of myself. After today, I'd be able to independently feed the masses and I do mean me.

The heat from the early morning sun crawled down the back of my shirt reminding me that it might be better to have the rain but the clouds had decided to scatter. Raindrops were no longer painting interesting shapes on the sidewalks.

The fifteen-minute subway ride underground was cool and thankfully away from the sun. When I got to my stop, I hopped upstairs and the building that I sought was easy to find. I'd heard about Shrafft's restaurants all my life and the look of this building on 912 Flatbush Avenue was more in line with what I had expected to see for the company.

Colorful street signs and cheery television commercials always depicted their stores as upscale type eateries. They were most popular for their breakfast, dinners, ice cream and candy assortments.

I easily smiled as I entered into the air-conditioned store. On my left, there was a long cocktail bar with stools and on the right were glass cases filled with cookies, pastries, gift baskets and a variety of boxes of chocolates. Further into the restaurant, I saw a woman seated alone at table, who was eating what looked like a hot fudge sundae. It was difficult for me not to make plans for the pay that I had not yet receive.

Working behind the lunch counter or maybe in the kitchen that I could not yet see might be tough but I felt that I could enjoy working in these kinds of surroundings.

As I approached the counter that was nearest the front door, I was shocked to see the tall guy who had passed me when I first entered the 27th street office. As I got close, I could hear him saying what I was about to.

"I was sent here from the Temporary Help office. Who do I see?"

The neatly dressed young woman behind the counter called out for a guy named Frank who quickly appeared from a side door. By the time he reached the counter, I had already let the woman know that I had been sent here for the same reason.

Frank eyed the two of us with a half smile and then asked for our names. The tall guy said Ray and after I responded, Frank asked that we follow him through the same side door that he had entered from.

We passed through the kitchen, which held a large dishwashing machine, which dominated one wall. There were people standing to it's left, feeding dishes and trays to the noisy monster's conveyor belt tongue. And on the right of the machine, others were removing the steaming hot remains. Throughout the rest of the kitchen was an assortment of sinks and food preparation counters. To my surprise, we walked pass this area and headed through another door which then led us down a poorly lit staircase.

When the three us moved pass the door that opened up to the basement, I felt both shock and disgust, all at the same time.

Any and every unwanted piece of junk that wasn't being used upstairs had been thrown down here. This was not recent garbage. I don't mean that anyone threw bags of food down here but everything else imaginable was. The floor was damp, which added to the mildew odor hanging in the air. It seemed like this place had been filling up for years and the 24 square foot area had been badly neglected.

Hesitantly, Frank finally said, "Well. What do you guys think?"

Right before giving my answer, a number of revelations flashed through my head.

One. The way this guy sounded like he was giving us a choice instead of saying "Get started working," made it obvious that a lot of other people had been sent here, asked the same question and non-apologetically gave the response of "Are you out of your mind. This is disgusting. I can't do this."

Two. Back at the 27th street office, I was called ahead of many other people. This had to be the rotten job that was first given to any newbie that walked in, on the chance that the dirty work would finally get done. Had they been running this same question to people for years? Was this really at the least a year's worth of refuse in front of me? Couldn't they hire some company to clear this out instead of waiting for some poor shmuck to do it?

Three. How bad could it really be, I thought to myself. A little hard word work never hurt anybody. It wasn't in my nature to go back and complain even though I was certain others had.

And four. This was the first time that I was being offered to get paid for doing a task. My first job. What the Hell. I could go home with nothing or I could ride this through and have a few bucks spending money in my pocket. In addition, I would be challenging myself and maybe winning.

After what seemed like minutes but was only an instant, I responded.

"Okay. I'll stay." I looked over at Ray. "Want to get started?"

After a moment of rolling his eyes, Ray slowly gave his response.

"Okay, okay. I guess I'll stay too."

I automatically could tell that if I had said no, Ray would have been out the door too. I patted myself on the back for being a good crew leader then got started with what we were really there for. We were given brooms, work gloves and plastic bags and then Frank left us to our work.

After the first half hour, my gloves were soggy but I kept them on so that I at least did not have direct contact with the refuse. There were metal containers, broken wooden panels, lots of boxes and more empty cans and bottles than I cared to see for a lifetime. Place all of these things in a watery under-soup and you have a recipe for a disgusting afternoon.

It took us about three hours to separate and bag the stuff and another hour to clean up the floor so that the place looked like a basement again. The original beige color of the floor slowly spread across the dark stone, because it was now drying. This floor had not seen the light of the overhead bulbs for a very long time.

Frank had walked downstairs once before, probably to check if we were sitting down crying. When he came down the second time, close to us completing the work, he was truly shocked. I knew that we were both being used but it still felt good to congratulated for work well done.

Ray and I said bye after each of us got ten bucks for our trouble. I decided not to hang around for that ice cream sundae but considering my need to clean myself up, the store probably would have lost customers if I had stayed. Before finding steadier work, I traveled back to Shrafft's Temporary Kitchen Help a few more mornings during that summer. I did dish washing and various kitchen tasks but never was I presented with another challenge as I had been on my first day of work.