Factual Family History
Another essential to creating a proper family history is factual reference material. Imagine that while amidst the family get-together chatter, you proudly present the tidbits of what you've heard all your life to be fact. Suddenly a cousin says, "This can't be true because my parents told me something entirely different." As you are about to object, how certain of your version of the story can you really be if there are no hard facts. If you're going through the trouble of documenting and presenting, it only makes sense that you deal with information can be proven. It cuts down on arguments and its a lot less embarrassing.
While putting together my book, The Green Legacy, I came across different names for distant relatives that made it difficult to verify who certain people really were and their true relationships within the family.

A happy moment of confirmation occurred when I was able to locate the actual marriage certificate of my great grandparents on my father's side. The certificate itself is in the form of a log entry of the marital union that took place that particular day but the reverend who wed them, witnesses and courthouse information can all be verified and proven beyond a doubt.
Keep in mind, this document was originally written for a union which took place on
July 28, 1897.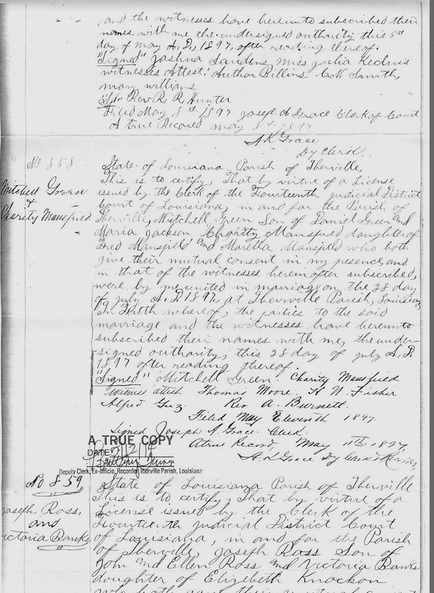 Below is a readable version of this document
No 858, Mitchell Green & Charity Mansfield

State of Louisiana Parish of Iberville, This is to certify, That by virtue of a License issued by the clerk of the Fourteenth Judicial District Court of Iberville, Mitchell Green Son of Daniel Green and Maria Jackson Charity Mansfield daughter of Fred and Marella Mansfield who both give their mutual consent in my presence and in that of the witnesses herein often subscribed, were by me united in marriage on the 28 day of July A.D. 1897., at Iberville parish, Louisiana. In forth whereof, the parties to the said marriage and the witnesses have hereunto subscribed their names with me, the undersigned authority, this 28 day of July A.D. 1897 after reading thereof.

"Signed" Mitchell Green Charity Mansfield
Witnesses attest Thomas Moore H. N. Fisher Alfred Guz Rev. A. Burnett.
Filed May Eleventh 1897. Signed Joseph A. Grace Clerk
Atrue Record, May 11th 1897, A.K. Grace by Clerk Recording

A TRUE COPY
DATE 5/12/14
Brittany Fuinge
Deputy Clerk, Ex-officio, Recorder, Iberville Parish, Louisiana

---
Take the time to verify your facts. If your documentation is to be used by generations to come, it would be helpful to others if the historical relationships and circumstances really did occur.
Good Luck on Your Journey