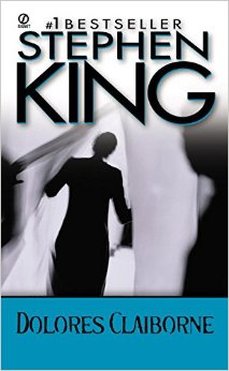 Last night, while driving home from Thanksgiving dinner, I finished the audio version of Dolores Claiborne, written by Stephen King and overall I liked the story quite a lot.

Dolores Claiborne is about a woman who stands accused of murdering an employer. She surprises everyone by freely admitting to murdering her husband many decades prior. The reasons for the old crime were masterfully woven into the present accusation in a surprising and grotesque way, as I have come to expect from King.

As Dolores continued telling her story and I realized that the book would really be a one-person narrative; I was a bit put off. I stuck with it though and I was not disappointed. As the puzzle pieces of the story fell into place, I became more impressed. The relationship between Dolores and Vera was very real. Regardless of their different life stations in the small town setting, they became good friends and taught each other needed lessons (good and bad) as real friends usually do.

It only made sense that Dolores wanted to come clean when the accusations were being made about Vera's death. Dolores had been holding on to her secret about her late husband's death for decades. No matter how "right" Dolores was for the actions she took, she had been tormented since the event and lived with constant guilt and the knowledge of how it affected her family. To suddenly be accused of killing her friend Vera, meant the authorities might dig deeper and try to connect prior events. Dolores was not a scheming criminal who got some kind of kick from hurting others. She was a woman trying to do right and in the end she was tired of the games. If I was in Dolores' position, I would have opened up also and let it all out.

My only point of disbelief was the kid's bank accounts. It the police were checking into whether there were insurance motives concerning Joe's death, why would they not check on bank accounts? I mean, at least ask questions about who had what money in their name or were there any recent deposits or withdrawals. Just because the bank representative had things to lose so he kept quiet, didn't mean that others could not have at least asked some banking questions.

Other than this point, Dolores' attempt at the keeping her of secrets in a small town and living with the repercussions made this a very believable situation. I applaud Stephen King for being able to successfully tackle this unique way of storytelling. In other words, I like the book and I give it four out of five stars.

To those that have not yet read the book: Beware the dust bunnies with their dusty teeth :)