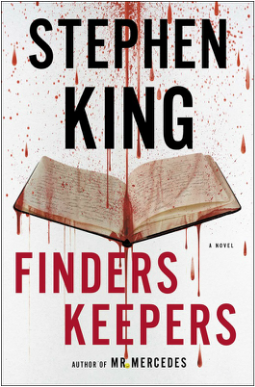 Finders Keepers is book two of the Bill Hodges trilogy (Book one being Mr. Mercedes, which I also reviewed). It's the story of one man's obsession with the way an author has written a particular character in his books. When this man (Morris Bellamy) finds that there are unpublished works in which the author might have supported Morris' view of a beloved character, Morris is willing to kill in order to possess the unseen manuscripts. Unfortunately for Morris, he goes to jail and his obsession is put on hold for many years. This gives others a chance to possess the books but watch out! Morris has never forgotten his obsession and will let no one stand in his way to get them back.

Finders Keepers is definitely a crime drama and an excellent one at that. Seems like Stephen King can write anything (I'm used to his horror) and be really good at it. The pacing and suspense were right on target. I know to expect the unexpected from King but the scene in the house between Morris and Pete's mother actually startled me (in a 'that didn't just happen', kind of way).

It was great to see the old crew from Mr. Mercedes back together again. Their roles in the story fit perfectly and just like in the previous book, things got more and more tense towards the end.

It was difficult for me not to see Morris as the Gollum character from Lord of the Rings, though. His life-time obsession with Rothstein's unpublished stories felt only strangely familiar at first. I did not make the Gollum connection until Pete also got hooked. All I could think of was the passing of the ring and what a person is capable of doing in order to possess it. I was happy that neither Morris nor Pete ever said, "Give me back my precious."

This book I give a five out of five stars and I'm anxious to see the third installment in the trilogy.